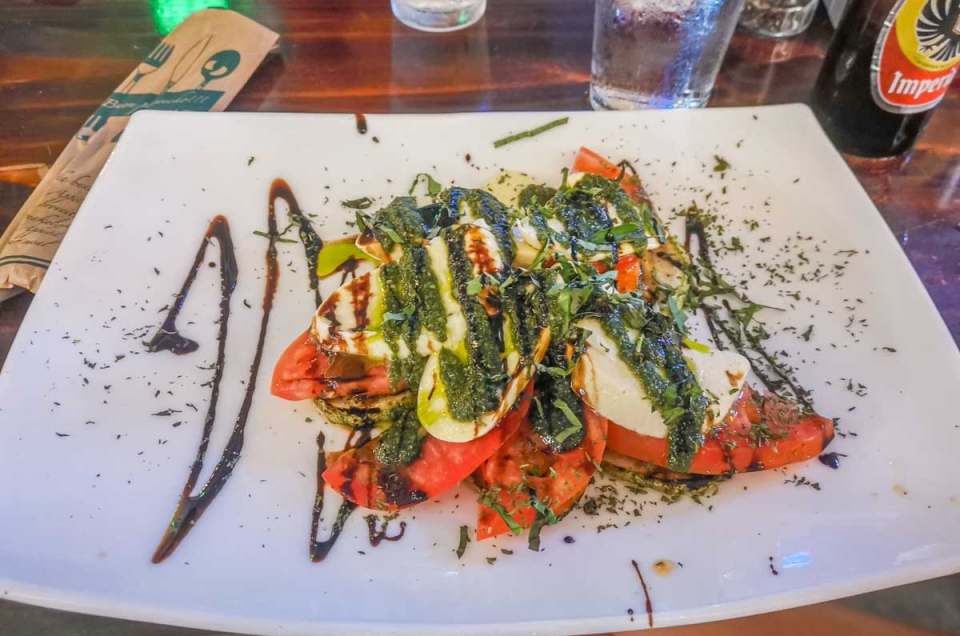 The top 10 restaurants in Jaco beach Costa Rica, based on popular recommendations from tourists and locals:
Graffiti Restro Cafe & Wine Bar – Known for its contemporary cuisine and extensive wine selection, this restaurant is a popular choice for fine dining in Jaco.
Tsunami Sushi – This restaurant is a must-visit for sushi lovers. The menu features a wide variety of fresh sushi and sashimi dishes.
Lemon Zest Restaurant – Located in the heart of Jaco, this restaurant is known for its creative dishes that combine Costa Rican and international flavors.
Side Street Bistro – This restaurant offers a cozy atmosphere and serves up classic bistro fare, including sandwiches, salads, and pasta dishes.
Kaya Sol – A popular spot for breakfast, Kaya Sol offers a range of dishes from classic American breakfast to Costa Rican specialties like gallo pinto.
Soda Rustico – This family-run restaurant serves traditional Costa Rican cuisine, including casados, which are complete meals that typically include rice, beans, plantains, and a choice of protein.
Tacobar Jaco – Known for its delicious tacos and burritos, Tacobar Jaco is a casual eatery that is perfect for a quick and satisfying meal.
El Hicaco – This beachfront restaurant is known for its fresh seafood dishes, including ceviche and grilled fish.
Wahoos – This sports bar and grill offers a relaxed atmosphere and a menu of burgers, sandwiches, and other pub fare.
Pili's Kitchen – A vegetarian and vegan-friendly restaurant that offers a range of healthy and flavorful dishes, including smoothie bowls, salads, and wraps.
Please note that this list is not exhaustive, and there are many other great restaurants in Jaco beach Costa Rica that you may want to explore. It's always a good idea to check reviews and ratings from other diners before choosing a restaurant to visit.